Facilities Kilefjorden Camping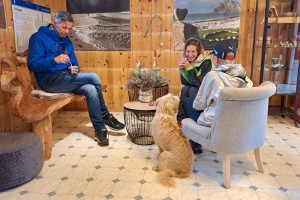 The kiosk/reception is open during the high season from 08:30-11:00 and from 16:00-20:00. Here you can go for registration and payment and information about the area. In the kiosk we sell a limited range of foodstuffs, including some fresh products such as milk, yoghurt, butter, eggs and cheese. In the morning we bake fresh bread rolls to order (please place your order the evening before). We serve fresh (bean) coffee and cappuccino, sometimes with home-baked delicacies. Fancy an ice cream? We can also provide for this with a delicious soft ice cream, iced coffee, or a packaged ice cream from Hennig Olsen.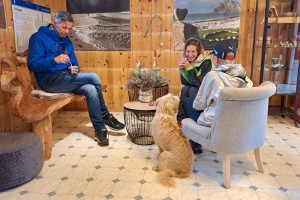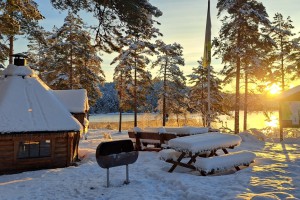 the grillhut is a welcome change to prepare your own meal by a fire or just to light a fire. the grill hut can accommodate about 8 people at the same time. outside at the grill hut there is also an outdoor barbecue ready for you at the picnic benches.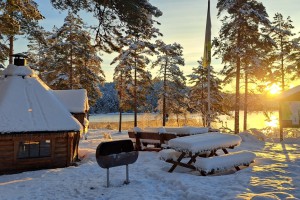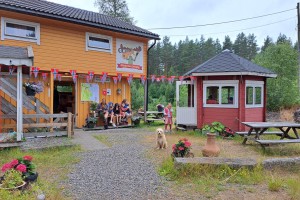 In the pavilion, the 6-cornered house right next to the reception, you can sit comfortably covered with about 6 people. There are magazines, games and crayons. There is a heater for any chilly evenings.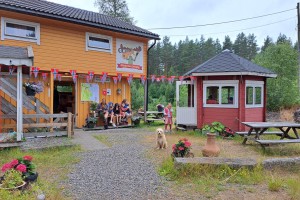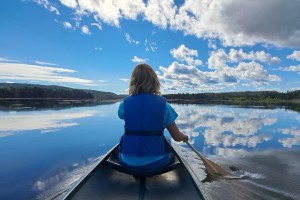 We have 5 canoes, 5 rowing boats and a pedal boat for an hour, day (part), or several days. This allows you to float around on the otra, but of course also sail a wonderful round, visit the island to have a picnic or paddle to a nice bivouac, take some extra things with you and make it a night away. The boats also lend themselves perfectly to sail the water a little further to fish. Catch the tastiest trout for the bbq. Rescue jackets are mandatory, and these are of course present.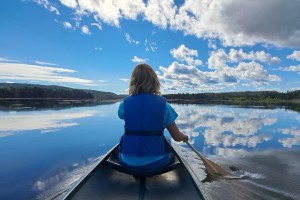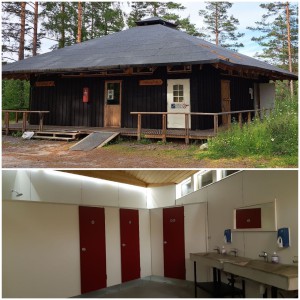 The campsite has a large sanitary building, with basic but clean and spacious showers (10 kr coins), toilets and washbasins. This building was built by the previous owner himself and was taken into use in 2020. A washing machine and dryer are available (limited) for a fee. In addition, there is a washing-up area.
The capacity of hot shower water has now been expanded considerably for the summer of 2023 and we are still working hard to expand the number of washing-up areas. These were the most heard shortcomings of 2022.
You can tap drinking water at various places on the campsite.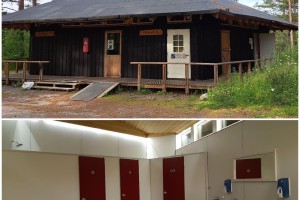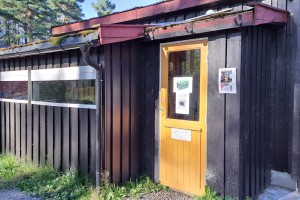 With us you can empty your chemical toilet, discharge gray water, and top up drinking water. We offer this service for a fee of NOK 50 for campers who do not want to spend the night here (which of course we cannot imagine).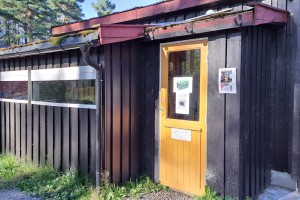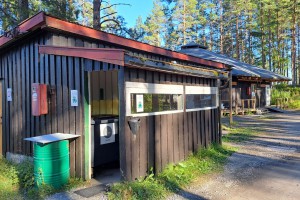 Garbage is (mandatory!) collected separately in 5 different bins: -glass/can/metal -paper -pant (= deposit) -plastic -residual waste Please keep residual waste as little as possible. You cannot dispose bulky waste with us. On behalf of the environment, thank you for your cooperation.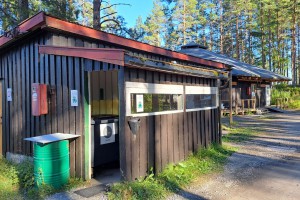 (Free) WIFI is available on a large part of the campsite. However, not everywhere. For better coverage of the entire site, we would have to cut down a lot of trees, and that is precisely not what we want. WIFI points can be found in cabin 13 and 14, and further on the sanitary building, on the kiosk and cabin 12, and in about the triangle in between. So if you think WIFI is important, find a place close to those channels. We certainly want to offer this service (to send those beautiful photos to the home front, among other things), but otherwise we mainly grant you an 'offline' stay at our campsite.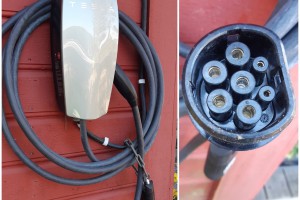 We have a Tesla car charger available at the kiosk for charging your electric car (note this is not a fast charger). If you want to use this, please report to the kiosk. Then we remove the lock and note the start and end position of the flow meter. On top of the standard price of NOK 50, we use the electricity daily price for the kW used. Charging your electric vehicle at the power points on the campsite or at your cabin is not allowed.