Camping at Kilefjorden Camping
Kilefjorden Camping is a beautifully situated campsite on the river Otra with many natural green areas. We are a campsite for people who love peace, freedom, silence, nature and outdoor adventure. At Kilefjorden Camping we do not have numbered, well-defined camping pitches, but every guest has the freedom to stand how and where he or she wants. That means that we cannot offer a fixed place in the form of a reserved place, but we can offer you all the freedom, surprise and adventure :) However, experience shows that we always have a place available, even in high season. However, those who arrive earlier in the afternoon have more choice and a chance at the most beautiful spot. You can choose a sheltered spot on the field below under the pine trees near the beach, a sunny spot on the large lawn enclosed by the forest edge, or comfortably on the gravel plateau with a view over the water. And if you have a small tent, you can also set up your tent on the grassy spot directly on the water behind cabin 12. There are poles with electricity connections scattered across the site, and depending on the length of your cable, you can stand where you want to.
Atmosphere of the campsite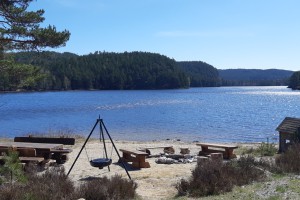 Kilefjorden camping has a beautiful beach where you can relax and enjoy the view of the water. The beach is surrounded by trees that give you a sense of tranquility. There are several picnic benches and on the beach we have made a fire pit where you can light a fire or have a barbecue in the Bålpanne. There are nice little hiking trails on and around the campsite to discover nature (and the blueberries!). Dream away over the water from one of the rocks or wooden benches. Relax in one of the hammocks that are waiting for you between the trees. And if you want to try what it's like to sleep in a hammock under the starry sky, we have 2 special hammocks (with mosquito net and rain cover) for rent! And for an extra adventurous night, rent a canoe and sail to the uninhabited island opposite the campsite to spend the night in your hammock! In rainy or cold weather you can go to the grill hut to prepare your own meal by a fire or just light a fire. The grill hut can accommodate about 8 people at the same time. Outside at the grill hut there is also an outdoor barbecue ready for you at the picnic benches. In the pavilion, the 6-cornered house right next to the reception, you can sit comfortably covered with about 6 people. There are magazines, games and crayons. There is a heater for any chilly evenings.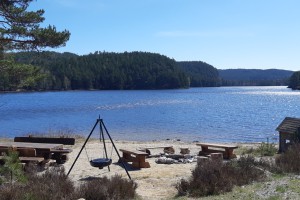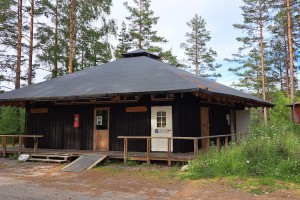 The campsite has a large sanitary building, with basic but clean and spacious showers (10 kr coins), toilets and washbasins. This building was built by the previous owner himself and was taken into use in 2020. A washing machine and dryer are available (limited) for a fee. In addition, there is a washing-up area.
The capacity of hot shower water has now been expanded considerably for the summer of 2023 and we are still working hard to expand the number of washing-up areas. These were the most heard shortcomings of 2022.
You can tap drinking water at various places on the campsite.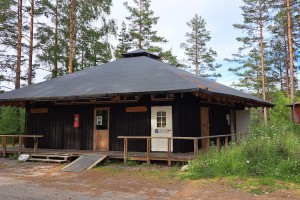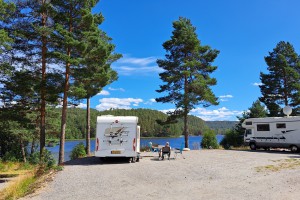 Our special camper pitches on the paved gravel plateau offer beautiful views over the Kilefjorden. These pitches all have an electricity connection and are accessible all year round.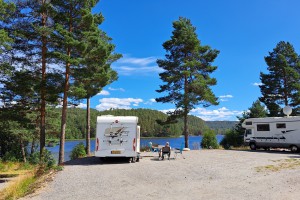 Self Check-in / Winterseason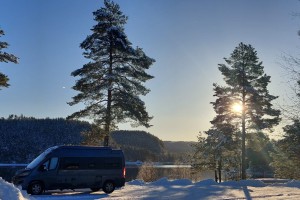 In the quiet period outside the high season, when the reception/kiosk is closed, a self check-in is available. You can find the forms to register in the pavilion and you can pay with VIPPS, cash or bank transfer (in NOK). Kilefjorden Camping is one of the few campsites in Norway open all year round. The camper gravel plateau, from which you have a beautiful view over the Kilefjorden, is accessible all year round and is kept free of snow in winter. The other places on the campsite can be covered with snow. In winter, sanitary facilities are open. Discharging chemical toilet/grey water is sometimes not possible in winter due to frost.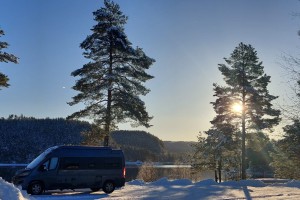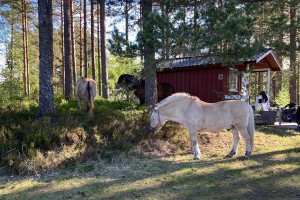 Dogs are very welcome at the campsite. We also have a dog ourselves, Jaxson, who has won the hearts of our guests. Please do walk your dog outside the campsite and clean up after his needs. Excessive barking is not appreciated. Horses are also welcome at our campsite. We do not have stables available, but if you can provide a barrier (power) wire yourself, and your horse continues to graze quietly behind a wire, you are very welcome for an overnight stay. As a rider you can spend the night in a cabin or your own tent.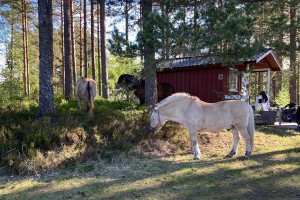 Registration and payment upon arrival.
If the kiosk is closed on arrival, find a camping spot and use the self check-in or register and pay later.
Keep a distance of at least 4 meters from your neighbours, calculated between outstanding canopies (this also applies to friendly campers!). This is for privacy and fire safety reasons. If it is not busy at the campsite, give each other space and keep even more distance.
In the high season we bake fresh bread rolls (to order) that you can pick up in the morning at the kiosk. We would like to receive your order for this the day / evening in advance.
You can light a fire at the fire place on the beach and in the grill hut. Open fire at your camping equipment or cabin is not allowed between 15 April and 15 September due to the risk of fire.
Waste is (mandatory!) collected separately in 5 different bins: glass/tin/metal, paper, pant (= deposit), plastic, residual waste. Please keep waste as little as possible. You cannot dispose of bulky waste with us. On behalf of the environment, thank you for your cooperation.
Kilefjorden Camping is a quiet campsite, please keep the noise level low at all times. Evening rest applies at Kilefjorden Camping after 10 pm.
Camper, caravan + car, tent + car
NOK 325
Small tent (motor, bicycle, on foot)
NOK 250
Person (≥ 12 year)
NOK 25
Extra/small site tent
NOK 50
Hammock incl rental
NOK 200
≥ 7 days = 10% discount on overnight stay
Electricity per night
NOK 60
Washing machine (per wash)
NOK 80
Tumble dryer (per drying cycle)
NOK 80
Refilling/discharging campers (without overnight stay)
NOK 50
Price canoe and boat rental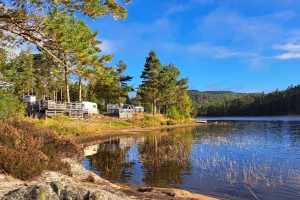 We currently have 1 free seasonal pitch on the waterfront and 1 seasonal pitch on the field available.
For more information and prices send an email to info@kilefjorden.com

Would you like to enjoy the peace and quiet at Kilefjorden Camping more often? Then consider a seasonal pitch. The caravan is ready for you to enjoy during the weekend, or whenever you want (all year round).
At Kilefjorden Camping we have a small number of seasonal pitches available. There are a number of assigned places by the water (max 125 m2) and a number of places on the field on the edge of the gravel plateau (max 70 m2).
In principle, we enter into an annual contract with our guests. Rent can be paid annually or in monthly installments.
Each pitch has its own electricity meter and electricity consumption is measured and billed on a monthly basis.
An awning is allowed, but nail tents / wooden structures for the caravan are not allowed.
Subletting your camping equipment to third parties is not permitted.
If we have a seasonal pitch available, it will be indicated on this page. If you are interested, please send an email to info@kilefjorden.com for more information and prices. After that, we like to meet potential new regular guests personally to show the place and to determine whether we are a good fit.
Kilefjorden Camping is a campsite for people who love peace, freedom, silence, nature and outdoor adventure. Keep noise levels low at all times. Evening rest applies at Kilefjorden Camping after 10 p.m.
Outside the high season it is usually very quiet on the campsite.